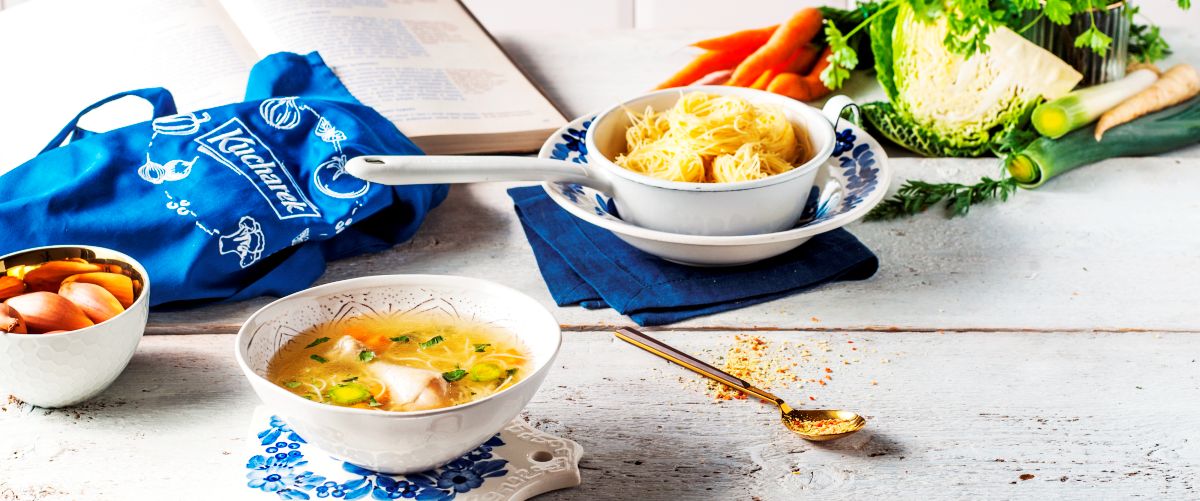 The history of good taste
Kucharek All-Purpose Seasoning has been on the market for over 20 years. It was in 1995, that its unique blend of ingredients was first combined. Kucharek entered our kitchens as a favourite, core seasoning and has stayed there ever since. It is difficult to imagine what many traditional dishes would taste like without it.
Kucharek is currently the most popular all-round spice, both in Poland and the Czech Republic. It is equally popular in many countries of Central and Eastern Europe, where traditional cuisine is of great importance.
Superb Quality Seasoning
Kucharek's choice of carefully selected ingredients makes for a unique composition of flavours and aromas, which is the key to its success. As a perfectly-balanced blend for enhancing the flavour of the dishes you make, this mixture of dehydrated vegetables and spices guarantees a desirable culinary effect.
In line with current trends and consumer needs, Kucharek All-Purpose Seasoning does not contain any preservatives or artificial flavourings.
Kucharek is produced using a careful selection of the ingredients, and the production process itself meets the most stringent standards. This ensures the highest of quality Seasoning and its popularity with gourmets both at home and abroad.
One Kucharek – many possibilities
Kucharek is highly rated and chosen for its all-purpose use, guaranteed flavour and repeatable effect in dishes that are seasoned by it. This is why Kucharek has long been so appreciated by its faithful consumers. Kucharek All Purpose Seasoning is a product for versatile use in soups, one-pot dishes, meat, fish, vegetable dishes or casseroles. You can use it for preparing marinades and breadcrumbs, as well as to season stuffings and savoury baked meals. Kucharek All-Purpose Seasoning will also help enhance the flavour of sauces, dips, creams and all kinds of dressings.
Kucharek brand's wide range
For years, Kucharek All-Purpose Seasoning has been extremely popular, which is why Kucharek has become an umbrella brand for several types of categories, complementary to the basic seasoning and belonging to the food products segment. Apart from the All-Purpose Seasoning, Kucharek, today comprises of broth cubes, liquid spices, and also many other products.
Do not hesitate to read more about our range of products.